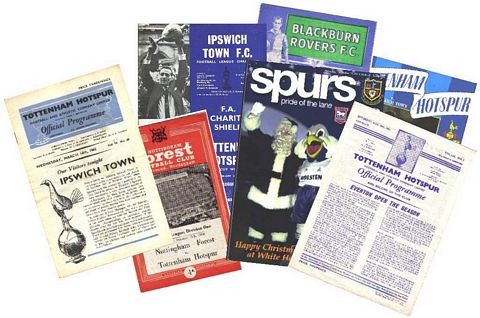 Welcome to the Spurs Collectables Programme Archive. In this section you will find programme images for many hundreds of programmes involving Tottenham Hotspur.


To view the programmes for a particular season, click on the season required in the list at the top of this page. Each season's programmes are listed on a single page. Competitive games are listed first, with friendlies and testimonials, abandoned and postponed games at the foot of the page.


This section initially covers the post-war years, but will be extended further back in due course. If you have pre-war or wartime programmes and would like to assist us, please contact us (see below).


We do not claim to be infallible. If you think you have spotted any mistakes or omissions please let us know by emailing the Archive Editor. We are only too happy to correct any errors.


| | |
| --- | --- |
| | We do not have scans for every programme that has ever been printed so if you see the NO IMAGE logo (left) and are able to provide a scan for us, simply click on it and an e-mail will be opened. Attach the scan(s) and we will do the rest! We will be happy to give you due credit on the website (you can of course remain anonymous should you wish). List of scans still needed here. |
- Trevor
©2018 Spurs Collectables. All rights reserved.
This website was inspired by - and is indebted to - Ralph Morris at

, home of the Ipswich Town programme archive.